The Top 8 Party Themes For Kids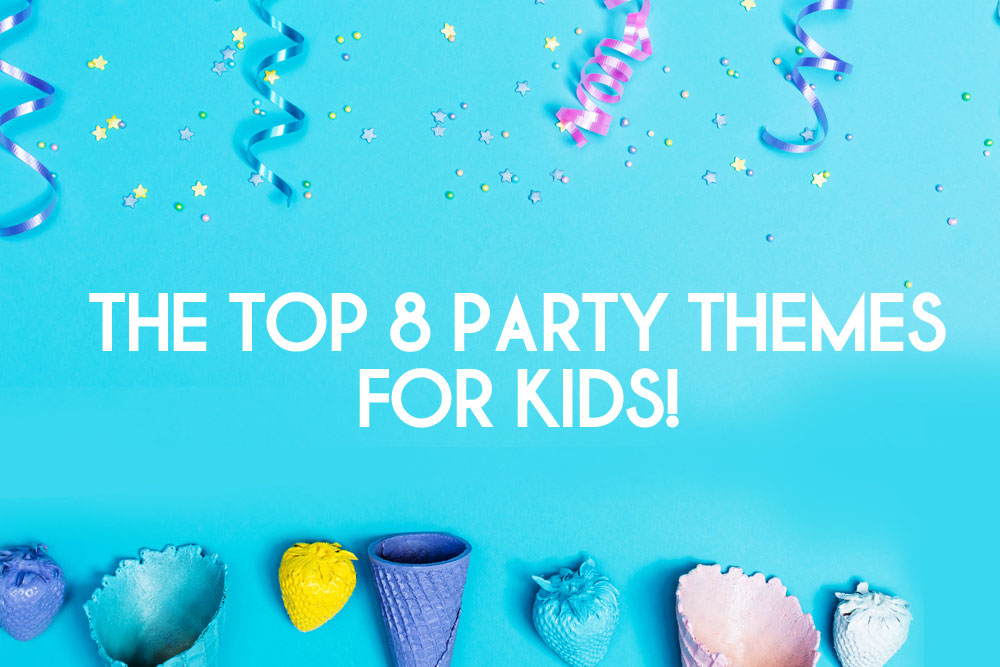 Don't just spring for the same old balloons and birthday cake to celebrate your kids this year. Instead, get creative with our guide to the most popular kids' party themes. From a birthday bash featuring Unicorns & Swan Ballerinas to a rugged glamping experience or a rumble in the jungle. These hip ideas are sure to make those mini-milestones ones you'll never forget!
Unicorn Party Theme
I am sure that you may think that you have seen the most beautiful birthday party themes for kids. However, I can assure you that you have not yet seen the cutest theme. It is no longer about sharp colours.
This particular party theme focuses more on attractive pastel colours of baby blue, baby pink, light purple, light yellow and add the magical effect of gold and silver glitters. It is very exciting, isn't it?
And the best thing is that it is fresh and unique and I believe that it should be everyone's favourite. It can be an ideal birthday theme for your daughter since it is filled with tasty treats, fun colors, and unicorns!
Swan Ballerina Party Theme
This ballet is the preferred choice of many when it comes to party themes because of the fact that it makes parties memorable with its fanciful touches, adorable sweets, and beautiful silver details.
Ensure that you spot these darling party ideas and elements dancing about:
Ballet slipper garland
Lovely Swan lake sugar cookies
Giant balloons with pink, silver, and tassel streamers that are white in colour
2-tier white birthday cake decorated with a pink ribbon and a swan topper
Paper flower dessert table backdrop
Glamping Party Theme
The months of Summer & Spring is the perfect time for a glamping style party theme for both boys and girls. That's right parents NOT only for the boys.
You can personalise the party to give every little camper a little tent with camping take home bag. You can add really cost effective items like, a map, compass, flashlight and even a pretty toiletry bag.
Glamping offers a rather unique and exciting experience that a typical theme simply cannot provide the birthday kid.
Note: There is a lot of work involved in organising a Glamping Party Theme, however, the experience will be worthwhile.
The Jungle and Safari Party Themes
Are you ready for an unforgettable adventure? Well, you are in luck! No passports are needed to explore these fabulous jungle and safari birthday party theme ideas, and they are sure to make your birthday celebration an awesome one!
Jungle and safari themes have always been a popular choice when it comes to baby showers and very first birthdays, but these days we are seeing the choice to move away from the traditional colour palette of colours that are bright or pastel and more toward a sophisticated and modern interpretation - that you are sure to adore!
Our suggestion? For your birthday party celebration keep a more monochrome theme so that you can build upon your day with gold highlights or tropical fauna for an impact that is fitting for these beautifully-styled occasions.
The Moon and Stars Party Theme
Is your little one hoping for a celebration that is shimmering and bright? Then you simply cannot go wrong with the Moon and Stars birthday party theme! With this theme, you can shoot for the stars, and even match your space to their favourite nursery rhyme, Twinkle Twinkle Little Star.
Transform your party space with lunar decorations, and even personalize the festivities with delectable moon and star-shaped cookies! Bring extra sparkle to your child's birthday party using balloons for a fun decoration, or even use bright and oh-so-fun glow sticks for each guest to play with. Whatever you decide for your little one's special day the Moon and Stars party theme is sure to make a birthday that is truly remembered!
The Under the Sea Party Theme
Sea creatures and life under the ocean make for an amazing birthday party theme! It really is better down where it's wetter, so why not entertain your guests with a homemade fishing pond game that they are sure to love?
It's important to select your colours from a simple palette so everything matches and looks coordinated. Choose beautiful shades that make a splash everywhere from your invitations to your party decorations! Be it a normal sea-themed party or even a Disney under the sea celebration, you can always mix things up.
Our suggestion? Get creative and give your party food a "seafood" theme with pearl cupcakes, cookies that are fish-shaped, and much more! This will pair well with your decorations (try using seashells and under the sea cutouts!) and your guests will be sure to love the direction you go in.
The Woodland Party Theme
Warm colour tones and patterns centered around wood will create a setting for a birthday party that will be the talk of the town by everyone who attends! The "Woodland Creatures" birthday supplies will turn any space that you select for your party into a storybook adventure!
This kit comes complete with an adorable deer, a happy moose, a little hedgehog, the sneaky fox, a cuddly bear, and, of course, the sly raccoon! Each cute woodland creature comes ready to celebrate your special day with a trail mix station or even a fun buffet! Our suggestion? Accenting the Woodland Creatures party theme with balloons in shades of brown and kelly green, and green chevron tableware to really bring the festivities together.
The Rainbow Party Theme
If you want your birthday party to pop with your guests, you can't go wrong with the Rainbow birthday party theme! It's so easy, affordable, and colourful fun for everyone! Every part of your celebration, from the food table to the decorations that you select, create an atmosphere for you and your guests that is truly vibrant. No wonder rainbow birthday parties are a hit with children of all ages!
The Rainbow birthday party theme really does transform a home and make the birthday party space into a rainbow-coloured spectacular!
What you need to do first is organise your decorations and tableware, pick the colours and style so they match and really give that fun rainbow feel. You are only limited by your imagination here, so think colours, think fun, think rainbow!